Looking for modern deck railing ideas? A truly modern railing is one that can be customized to suit your unique style. So whether you're a subtle-chic minimalist or prefer more statement-making aesthetics, you can design the ideal railing for your tastes. The great news? That's precisely our railing portfolio.
Discover modern deck railing ideas of varying materials and styles to inspire your deck perimeter.
Contemporary Composite Railing Ideas
Composite railing — meaning railing crafted from a blend of wood and recycled polymers — is a natural upgrade from old-school wood perimeters, with no staining or painting required.
Composite railing comes in a variety of styles, so you're bound to find one that's right for you. Plus, many composite railing profiles offer customization options, so you can mix and match components and colors to your heart's content.
An Elegant Curved Railing
Looking for modern deck railing ideas with a touch of personality? Go for a curved design. A rounded deck and railing build gives your outdoor living space an elegant, fluid feel that complements the natural bends in your landscaping. Keep in mind that curved designs require a qualified contractor to build.
Cool & Functional
Embrace the "form follows function" theme of modernism with our Drink Rail, which not only looks good but increases your space's functionality. The capped polymer deck board as top rail gives you a cool, sleek look — plus, provides a convenient space for you and your guests to set your drinks.
Sleek Metal Railing Ideas
For modern deck railing ideas that deliver a chic, streamlined perimeter, consider aluminum. Like composite railing, aluminum rail options elevate the look of your space without all the drawbacks of wood. What's more, their clean aesthetics keep sightlines clear and complement both large and small builds.
A Chic White Perimeter
For a clean, crisp border, opt for a white metal railing. The bright white defines your perimeter, while the narrow balusters let you take in your backyard views. Pair your white railing with light gray or tan composite decking to keep things bright, or choose saturated decking for a high-contrast look.
A Multi-Hued Statement
Mix and match colors and materials for a bold look that showcases your unique style. Black aluminum rails and balusters give you a sleek, minimalist look, while white composite posts add a distinctive contrast. Pair your white and black railing combination with nature-inspired rich brown composite decking for an even greater mix of texture and color.
Industrial-Chic Stainless Steel Cable Rail Ideas
Want a cool, unexpected deck perimeter? Go for stainless steel cable railing. Cable rail is a unique railing infill that gives you unobstructed sightlines and a contemporary aesthetic that suits a variety of homes.
Contemporary Coastal Cool
Ideal for a coastal aesthetic, stainless steel cable infills deliver a refined look with understated textures. Keep things light and airy by pairing your cable infill with a bright white composite railing. Exemplify the coastal feel by adding accents in fresh, light colors to your deck décor.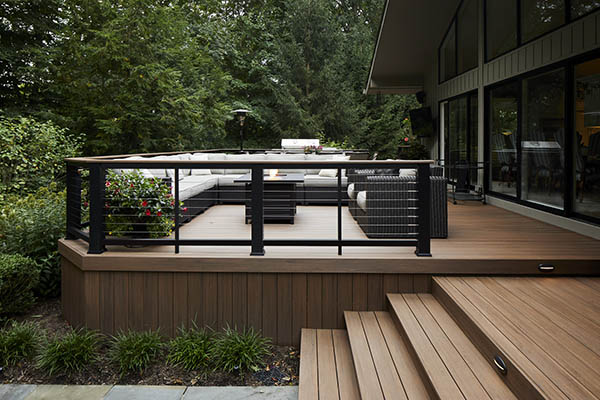 Multi-Textured Alpine-Style Railing
Capture a modern alpine style with the mixed material combination of a Drink Rail and stainless steel cable railing infill. The cable rail gives your deck perimeter an industrial edge, while the nature-inspired deck board top rail lends a character-rich finish to your perimeter.
Clean & Cool Glass Railing Ideas
Have a gorgeous backyard view? Keep your sightlines completely open with modern deck railing ideas featuring glass panels. Glass paneling is an infill option that pairs beautifully with both composite and aluminum railing profiles.
A Crisp, Clean Perimeter
Go for a clean, open feel with glass paneling paired with white composite railing. The clean white defines your border, while the glass keeps the overall look and feel of your deck perimeter open and airy.
A Cool, Barely-There Border
Railings are an essential safety feature for many decks, but that doesn't mean they should steal the show. Glass paneling delivers a sophisticated, understated aesthetic that won't take away from your view or your deck design. For a truly minimalist look, pair your glass paneling with sleek black metal railing.
Ideas for Railing Alternatives
Interested in more modern deck railing ideas, conventional and beyond? Explore these alternative options for even broader deck perimeter inspiration.
Built-In Features
Built-in deck features primarily refer to benches and planters — but they can also include an outdoor kitchen or bar area. When installed at the perimeter of your deck, these built-in features not only give you a defined border but can increase your deck's functionality, while saving space, too.
Landscaping Around Your Deck
Ideal for low deck designs that don't require a railing, plants along your deck perimeter give you a softer border while also acting as a natural deck skirting option. Planting tall, lush plants at the edge of your deck not only adds texture and color to your space, but also creates a sense of privacy.
*Note: TimberTech decking products are not suitable for use in a privacy screen application.
Bring Your Modern Deck Railing Ideas to Life
With plenty of modern deck railing ideas to get your creative juices flowing, you're ready to dive deeper into all your railing design possibilities.
Explore our Railing Guide for a clear list of all your customization options and start designing the ideal railing for your modern outdoor living space.