Wondering about whether or not to build your own deck? With the right expectations, know-how, and resources, building your own deck can be an enjoyable and cost-effective option.
To help you ask whether it might make sense to build your own deck, we've assembled top DIY tips and considerations on:
Assessment of an existing substructure, project scope, and materials.
Consideration of build variables like tools, labor, and timeline.
Familiarizing yourself with decking installation best practices.
Adhering to building codes and securing a permit.
Building a new substructure (if applicable).
ALREADY SURE YOU WANT TO DIY?
Learn what actually goes into building your own deck with installation guides and easy-to-follow videos in our Deck Building Resource Center. EXPLORE
Step 1: Assess Substructure, Scope, & Materials
Before you build your own deck, ask yourself these questions to decide whether or not you feel comfortable taking on the project.
Substructure
Whether you're simply resurfacing your existing deck or adding on an extension, you need to fully inspect your substructure to ensure it is structurally sound.
Common Substructure Issues
During your deck inspection, check for common substructure issues, including:
Correct joist spacing and blocking
Mold, mildew, or rot
Loose or rusted fasteners
Bent or damaged joists
Joists out of plane
Insecure or rotted ledger board
While minor issues with your substructure, such as loose fasteners or a few damaged joists can often be repaired, in most cases, it is best to replace the entire substructure. A newly built substructure ensures your new deck not only looks great, but also boasts safe, sturdy connections and lasts for many years to come.
Scope: Deck Shape & Design
What will your deck shape be? (Note: Your deck's height and shape will also determine whether you need a building permit).
Will you lay your boards straight or go for a more complex deck pattern such as: A picture frame border? Diagonal decking?
Will your deck need a railing (required when deck surface is at or above 30" inches from the ground)?
Deck Material
Step 2: Consider Build Variables
Should you opt to build your own deck, you will take on the role of not only laborer, but project planner and coordinator. A few factors to think through include:
Tools
Do you have access to the right tools for your build? And are you comfortable using them? Common tools include:
Cutting tools, like a jig saw, miter saw, and/or table saw
Fastening tools such as a drill and your chosen fastener
Labor
Will you have help building or will you be working solo?
(Having help will of course speed things up).
Working alone will mean you have a longer timeline — but also complete control of your build.
Timeline
What is your proposed timeline? Do you have a hard deadline? Several factors will affect your project timeline including:
Step 3: Get Familiar With Decking Installation
Before deciding to build your own deck, it's a good idea to get familiar with the decking installation process to help you decide where you might need some assistance.
Despite some variations in decking installation depending on deck material and fastener type, all installations will require:
WANT THE EASIEST WAY TO BUILD A DECK?
Discover the easiest decking installation with TimberTech AZEK decking, top-down fasteners, and panelized railing. EXPLORE
Step 4: Follow All Building Codes & Secure Permits
If you feel comfortable with your answers to the questions above and the deck building process steps involved, you're ready to get started with your project.
Building Codes 101
Building codes can affect design choices such as your deck shape and size, railing height and design, or whether your deck needs a railing at all.
Regardless of whether you have an existing substructure or are building a new one, make sure your deck design is up to code. Review local building codes before confirming your design so you don't run into any issues when trying to get your building permit.
Building Permits 101
Before you build your own deck, you likely need to acquire a building permit from your town or city hall.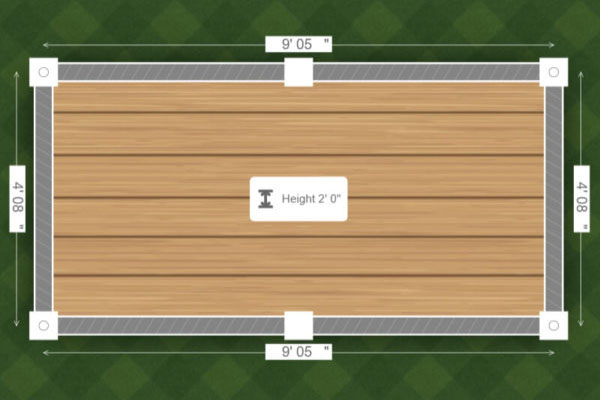 How to Get Your Permit
You'll need to bring a diagram of your deck with dimensions to your local building department, so they can confirm it will be built to code. Once they approve it, they'll issue you the proper building permit.
Step 5: Build Your Substructure (If Applicable)
You'll need to build a new substructure if you're building a brand-new deck or if your existing substructure is beyond repair. Extending your deck will also require an additional frame built in connection with the existing substructure.
Tips for building a substructure include:
Step 6: Get Started
Now that you have the best practices for how to build your own deck, it's time to dive in: You're ready to design your deck with our 3D Deck Design tool.
Start with either a customizable deck plan template or jump right in and begin designing your ideal deck from the ground up.