If you're thinking about simple backyard decks, you likely have a backyard that's full of potential — you just need the inspiration to take your outdoor living space to the next level.
With the right project plan, a simple deck can be both a work of art and a sought-after leisure spot.
Need to explore simple backyard decks for a simple, seamless space? We've got you.
Step 1: Learn What Influences Your Project
The shape of your deck and your deck size are two major factors when it comes to simple deck designs. Both will impact:
The overall cost to build your deck.
The labor involved and degree of installation complexity.
The functionality of the space.
The final look and feel of your outdoor living space.
Keep these factors in mind as you gather inspiration, and note which ones are most important to you.
Even simple backyard decks can vary widely — after all, simplicity doesn't have to mean you forego your personal style or your goals for the space — so keeping track of your "must-haves" and "would-likes" for a given budget is key.
PRO TIP
Keep a list of what influencing factors matter to you most; this will help you align your creativity to you and your family's needs..
Step 2: Get Inspiration & Explore Simple Backyard Decks
Now that you know what impacts a deck project, you're ready to explore ideas. Each of these builds offers different benefits — so keep your budget, design preferences, and goals for the space handy while you explore.
Perfect Your Backyard With a Platform Deck
One deck idea that's as attractive and popular as it is simple? A platform deck.
A platform deck, sometimes called a floating deck, is one built just a few inches off the ground.
Benefits of a Platform Deck
Design versatility: Platform decks are an ideal "canvas" against which to showcase your personal style. Finish the space with texture-rich landscaping or hardscaping for a curated feel.
Straightforward build: Especially in a traditional square or rectangular shape.
Potential cost savings: Since the deck is so low to the ground, you won't need stairs or railing.
Is This Build Right for Me?
✓ Works well with level backyards.
✓ Can be built as either an attached or detached structure.
✓ Works well with or without a patio.
Stay Stylish & Keep Stairs Simple
Just a few deck stairs – often kept on the shallow side for a simpler build – can bring attractive dimension to a more straightforward deck design.
Benefits of Simple Deck Stairs
Delivers trend-right dimension: Having multiple heights and textures in a space actually helps it look larger by introducing new planes for the eye.
Polishes the look: As an extension of your home, your deck should look intentional and curated. A few simple stairs help achieve this – without too much cost or effort.
Is This Build Right for Me?
✓ Works well with level backyards – at least in close proximity to the deck.
✓ Is more complex than a simple platform deck – so make sure you're confident DIYing the project, or working with a contractor.
✓ May introduce the desire for outdoor lighting, to improve safety at night.
Choose a Subtle Picture Frame Border
A picture frame border is formed by laying at least one, but up to three, deck boards around the perimeter of the deck, perpendicular to the deck surface. The end result appears like a "frame" for the infill of the deck.
Benefits of a Picture Framed Deck
Covers up your end-cuts: End-cuts are the exposed sawn-off ends of your deck boards. Picture framing your deck — as well as adding fascia — are ways to conceal those raw ends without having to use end coating.
Elevates your decking masterpiece: Just as a picture frame lends a polished look to a finished work of art, a picture frame border brings subtle sophistication to even simple backyard decks.
Is This Build Right for Me?
✓ Works well with level backyards.
✓ Requires additional joist blocking and spacing, so it may be best to add a picture frame to a brand new composite deck – or to the composite replacement of an older wood build at the end of its lifespan.
Explore Other Ways to Expand Your Living Space
You may be thinking that the only way to expand your livable backyard space is with a deck — but it's possible you could be overlooking some great alternative routes to enjoyable outdoor living.
If you have a second-story deck or balcony attached to your home already — or, in some cases, just an exterior feature with enough of an overhang, like back stairs — a covered deck may be a simple and cost-effective solution.
Instead of starting a whole new deck from scratch, consider finishing the partially covered space below. This could be done with the addition of:
AZEK's use of the mark DRYSPACE is with the consent of DrySpace, Inc., in Cedar Rapids, Iowa (www.dryspace.com). AZEK and DrySpace, Inc. are not affiliated in any way. Neither company warrants the goods or services of the other.
Benefits of a Simple Covered Deck
Semi- or fully protected: Depending on the type of covering that shields the finished outdoor living space, you can enjoy partial or total coverage from the weather.
Can double the size of your outdoor living space: You may not have the budget for a brand-new deck, but you can still expand your livable square footage by finishing, instead of constructing, a simply inviting covered space.
Is This Build Right for Me?
✓ Costs can vary significantly depending on the type of structure covering your deck, and whether it is already built or will be a brand new build. Consider carefully when budgeting.
✓ Can be built as either an attached or detached structure.
✓ Can require minimal new construction if finishing an existing covered area.
Step 3: Considering DIY? Get the Insight You Need
One of the benefits often associated with simple backyard decks is the potential to DIY some or all of the project.
Whether you're a newly minted DIYer – or your toolkit rivals the family dog for best friend status – we have the insight and best practices you need to start your project right.
Jump into one of our project guides and follow along with clear visuals and guided videos.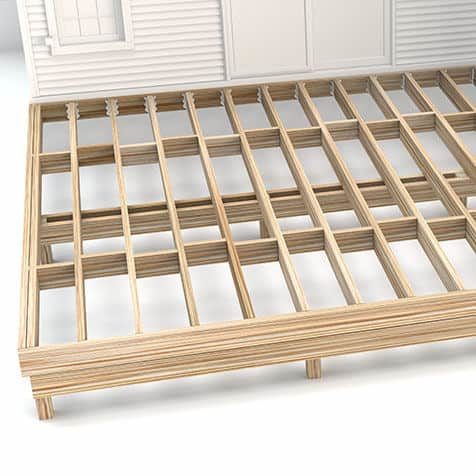 Deck Joist
Blocking & Spacing
Foundational best practices for simpler builds.
How to Install TimberTech® AZEK®
With TOPLoc® color-matched fasteners.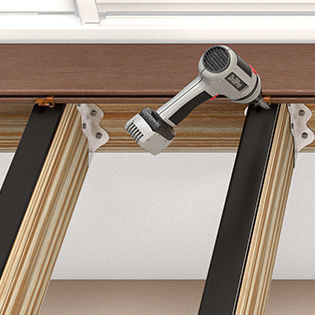 How to Install TimberTech PRO® / EDGE®
With CONCEALoc® hidden clip fasteners.
You're Ready to Get Designing
Now that you have inspiration and the knowledge to help you determine which simple backyard decks are great candidates for your family, you're ready to take next steps.
Jump into our 3D Deck Designer software and design your own no-frills, all-style deck – then bring your design to your contractor when you're ready.