Your deck layout refers primarily to the size and shape of your deck. Planning your deck layout is an important part of designing your deck, as it will determine your substructure needs — and may affect whether you DIY the build or work with a contractor.
CONSIDERING COMPOSITE DECKING FOR YOUR BUILD?
Explore these tips and best practices for composite decking installation to decide if composite is right for you. EXPLORE
A Brief Introduction to Deck Anatomy
Before you start thinking about your deck layout, first make sure you're familiar with all the components of a deck.
Deck Anatomy 101
From footings to railing, and everything in between.
READY TO DIVE INTO DECK LAYOUT INSPIRATION?
Discover deck layout templates and get ideas for customizing the design to suit your unique tastes. EXPLORE
Thinking About DIY-ing Your Deck Layout?
Depending on several factors, you may be able to DIY your deck layout — with the right tools and guidance, that is.
Before you decide to DIY your deck, consider these factors:
Substructure
To DIY your deck layout, you'll need to be comfortable with inspecting your existing deck substructure or constructing a new one. Familiarize yourself with substructure best practices to determine your comfort level.
Tools & Timeline
Any DIY project requires you be familiar with — and have access to — the tools you need for the build.
Also be sure to think about your project timeline, and whether you'll be working alone or with a partner.
Already Know You'll DIY?
Discover helpful how-to videos, installation guides, & so much more in our Deck Building Resource Center.
Thinking Through Your Deck Layout: Best Practices
Follow these best practices for designing your deck layout, constructing the substructure, and installing your decking.
IMPORTANT
Always check local building codes before you decide on the final design of your deck. LEARN MORE
1.) Decide on Your Deck Size & Shape
How do you know what deck shape is right for your build? And how big should it be? To determine the right size and shape for your deck, think through these factors:
Home Architecture
Your deck's shape should complement your home's architectural style. Modern homes may be able to pull off interesting, angled designs, while a traditional home will be best suited to a classic shape.
Space Available
Your deck should be proportional to your home and yard to optimize the space. Keep in mind backyard features — such as its slope or any trees near the home — will also affect size and shape.
Primary Function
How you plan to use your deck will affect its shape and size. If you plan to host large parties, make sure your deck can accommodate the crowd. For smaller gatherings, a smaller size may do.
Keep in mind that the more complex the shape, the more intensive your substructure construction. For simple DIY-able shapes, stick to squares and rectangles.
Want to Review Customizable Deck Plans?
Kickstart your deck design with popular deck plan templates you can customize to suit your exact needs and preferences.
2.) Lay Out Your Substructure
Start with your substructure's perimeter and outline the shape with string line attached to wood stakes. This will help you determine where the support posts and footings will need to go along the frame. The locations of the posts will depend on the size of joists you're using and what their span rating is.
After you locate post placements, install the concrete footings and posts. If applicable, given your climate, make sure the footings sit below the frost line in your area.
Deck Joist Spacing & Blocking
Once you have your deck perimeter set up, you're ready to install the joists and blocking. Typical joist spacing is 16" on center, but you can choose to place joists at 12" on center for a more rigid underfoot feel.
Blocking should be placed in between the joists, staggered every 4' to 6'. This helps to prevent twisting and moving of the joists over time.
3.) Plan for Decking Installation
Planning for decking installation will first require you to choose your decking material and fastener type.
From there, you'll be able to:
Establish Deck Board Spacing
Proper deck board spacing depends on the board and fastener type you choose. Typical deck spacing varies between 1/8" to 1/4".
You'll need to know your deck spacing in order to calculate how much decking you'll need.
Calculate How Much Decking You'll Need
To calculate how much decking you'll need for your build, you'll need to know:
Your deck's square footage.
Board square footage.
Deck board spacing square footage.
Deck Layout Inspiration
Now that you have an idea for what it takes to design and layout your deck, discover curated deck plans to inspire your build.
12' x 16' Deck Layout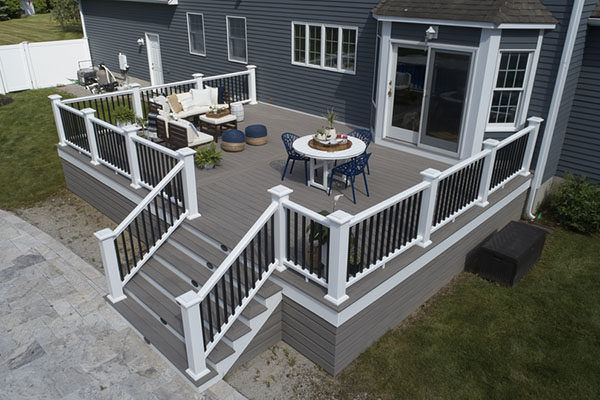 A 12' x 16' deck is a popular shape that gives you a functional, attractive outdoor living space. This simple deck layout is highly versatile and will complement just about any style of home.
DIY Considerations
The simplicity of this shape makes it a suitable candidate for a straightforward DIY job. However, keep in mind a second-story deck of this shape will be more difficult to DIY — due to stair construction, the need for a railing, and extra code regulations — than a lower deck.
Why Choose This Layout?
This versatile deck is big enough to host multiple functions such as separate areas for dining and lounging, without taking up too much of your yard. Be sure to choose furniture that is appropriately sized to maximize the floorspace of your deck.
CUSTOMIZE THE 12' X 16' DECK PLAN
Add your personal touch to this deck plan in our 3D Deck Design tool.
LAUNCH DECK PLAN
L-Shape or Wraparound Deck Layout
A low-to-the-ground wraparound deck or porch is a common characteristic of farmhouse and southern-style homes — but can work well with any home on flat ground. This design allows you to take in your backyard views from just about any angle.
DIY Considerations
How you plan to lay the boards at the corner of the deck can affect the difficulty of the framing. Laying the boards in the same direction through the corner will be easier, while a diagonal join-up with miter cut boards (boards with ends cut at a 45-degree angle) will be more challenging.
Why Choose This Layout?
A wraparound deck takes up minimal yard space, as it hugs the perimeter of your home — yet still offers plenty of square footage for an ideal gathering place. Being a low-to-the-ground build means get-togethers of family and friends can spill out effortlessly onto your lawn or patio.
CUSTOMIZE THE L-SHAPE DECK PLAN
Create your personalized wraparound deck in our 3D Deck Design tool.
LAUNCH DECK PLAN
16' x 20' Rectangle With an Angled Corner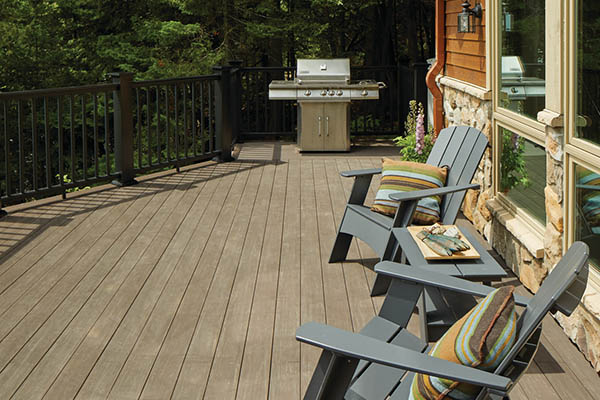 Want something a little unexpected? Go with an angled corner on one or more corners of your rectangular deck. The angled corner gives your deck a softer outline which can help balance the overall look and feel of your backyard. This type of deck is suitable for a wide range of homes and backyard sizes.
DIY Considerations
The angled corner can be challenging to DIY because of the specific substructure needs of the shape. You may consider working with a contractor for this build.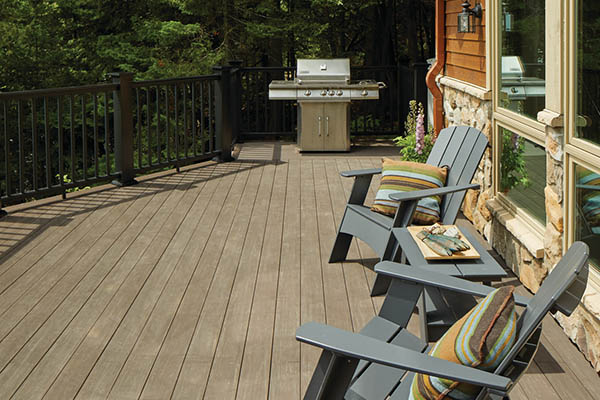 Why Choose This Layout?
The spacious rectangle with an angled corner gives you a versatile outdoor living space that can accommodate various furniture arrangements and functions. Create separate sections for different uses with strategically placed furniture, or keep the space open with just a couple of chairs facing toward your backyard views.
CUSTOMIZE THE ANGLED-CORNER DECK PLAN
Adjust the size, deck board colors, and more in our 3D Deck Design tool to see if this layout suits you.
LAUNCH DECK PLAN
Rectangle & Octagon Combination
A rectangle and octagon combination is a dynamic, dimensional design that gives you a multi-functional outdoor living space. This type of design is ideal for homes with larger backyards where the deck shape has the space to be fully realized and make a strong visual impact.
DIY Considerations
The octagon alone is a complex deck structure that will likely require the help of a contractor to get it right.
Why Choose This Layout?
Can't decide between wanting a cozy intimate space and a large functional area? A rectangle and octagon give you both. While the rectangle gives you a larger area to host family and friends, the octagon gives you a cozy alcove for you and your closest confidants.
CUSTOMIZE THE RECTANGLE & OCTAGON DECK PLAN
Start customizing your octagon and rectangle deck in our 3D Deck Design tool.
LAUNCH DECK PLAN
Start Designing Your Deck Layout
With a better understanding of deck layout best practices, you're ready to explore more DIY resources for a greater scope of what your project will entail. Explore our Deck Building Resource Center for helpful how-to videos, decking installation guides, ideas for finishing touches, and so much more.