At first glance, decking boards seem straightforward, right? After all, you already know your deck surface is made up of decking boards (pretty simple).
But when you "zoom in" to examine the boards closer, the picture changes. You might begin to notice significant differences across decking materials, types of boards, and decking collections. So when you ask, "What are the best boards for a deck?," the answer may not immediately be clear — that is, until now.
We've got you covered with the always-easy, never-boring insight you need on all things decking boards.
STILL THINKING THROUGH HOW TO GET STARTED?
Let TimberTech be your guide. We'll coordinate contractor quotes & answer any questions you have. LEARN MORE
Step 1: Learn About Your Deck Material Options
From traditional wood options to innovative, enduringly beautiful TimberTech® AZEK® deck boards, you have plenty of choices when it comes to deck material. But while you may think choosing your material is mostly about which color you like best, looks are only part of the story.
Major Factors Influenced by Deck Material
Each deck material has different attributes that affect your deck in several ways, including:
✓ Deck performance and longevity
✓ Deck maintenance needs
✓ Long-term costs of your deck
✓ Overall value of your investment
Explore your deck material options to find the right choice that fits your investment and lifestyle needs.
Composite Decking vs Wood? No Contest
See how TimberTech capped polymer and capped composite decking boards outperform traditional wood. With TimberTech, you lock in a high-performance, low-maintenance outdoor living space — wood just can't compare.
Wood Decking Myth: A Better Life Outdoors.
Reality? Costly & Quick-to-Fade
Many wood enthusiasts believe wood to be the most inviting, comprehensive, and earth-friendly building material for their deck. The problem? That's just not true.
MONEY ON YOUR MIND?
Material is just one cost factor to consider for your deck build. Find out what else you'll need to think through for your budget.
EXPLORE COST TO BUILD A DECK
Step 2: Get Familiar With Composite Decking Boards
Now that you know your deck material options, it's time to dive into more detail about your engineered decking choices so you can determine the best option for your budget and build.
Explore Composite Decking 101
Get Answers to Questions Like:
What is the cheapest capped composite decking?
Can composite decking go over concrete?
Is composite decking as attractive as wood? (Spoiler: YES!)
With the right insight, you'll be ready to drive your project forward with top marks. Jump in!
Types of Composite Decking Boards
TimberTech offers two types of composite decking: capped polymer decking and capped composite decking — but what's the difference? We're glad you asked.
Capped Polymer Decking
✓ TimberTech AZEK® decking.
✓ Superior moisture and weathering protection.
✓ 100% synthetic materials.
✓ Hyper-realistic real wood aesthetics.
✓ Made with the most advanced materials science for best-of-the-best performance.
Capped Composite Decking
✓ TimberTech PRO® and TimberTech EDGE® decking.
✓ 3- and 4-sided capping.
✓ Blend of recycled wood and synthetic materials for superior durability compared with wood.
✓ Varied real-wood aesthetics.
Enjoy this easy-to-understand guide on differentiating between the types, so you find the right boards for your build.
Go Deeper Into the Materials Science
What makes TimberTech capped polymer and capped composite decking boards superior choices to wood and other composite decking brands? Our tech.
Dive into the materials science to discover what it takes to create highly innovative decking with real-wood looks.
Step 3: Discover the Best Decking Material: TimberTech AZEK Deck Boards
Interested in your composite decking options, but wondering which is the all-around best choice? Enter TimberTech AZEK deck boards. TimberTech AZEK capped polymer decking boards are more than just innovative — they form a category all their own.
Let's start with their unbeatable durability.
Taking Durability to a New Level
It's true: Some wood species have made a name for themselves when it comes to durability. But all wood is susceptible to erosion agents like UV rays and moisture — meaning costly maintenance is not a matter of "if," but "when."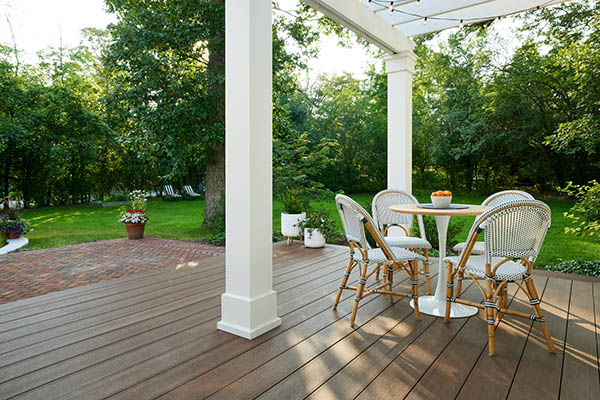 If you want to leave the fading beauty of wood behind, TimberTech composite decking is the way to go. And if you want the best of the best? You want TimberTech AZEK decking.
Fully engineered. Best in class tech. All the nuanced beauty of wood.
That means your deck stays looking and performing its best. So you can live your best life outdoors.
What Else Makes TimberTech AZEK the Best?
Made of a proprietary blend of polymers, TimberTech AZEK deck boards deliver exclusive features many other composite decking products can't, such as:
✓ Unrivalled performance for an enduringly beautiful, long-lasting outdoor living space.
✓ Hyper-realistic wood looks for a highly attractive, inviting deck.
✓ Stays up to 30° F cooler than competitive products,* perfect for decks in full sun.
✓ Up to 40% better slip resistance than leading competitive composites, making TimberTech AZEK ideal for pool builds.
✓ Minimal maintenance needs so you can spend more time enjoying your deck rather than working on it.
*Although TimberTech AZEK decking products are cooler to the touch than many other deck board products, all decking products will get hot in the sun. Additionally, the darker the decking color, the hotter it will feel. For hotter climates, consider choosing a lighter color.
INNOVATING BEYOND THE COMPETITION
See how TimberTech decking boards stack up against the competition. (Spoiler: It's no contest.)
Step 4: Start Planning for Your Build
Now that you have an idea of which decking boards are best for you, you're ready to start considering more of the details — like board size, board profile, fastener options, and installation tips.
Deck Board Sizes
Deck board size refers to the length, width, and thickness of the boards, all of which vary depending on the type of material chosen. In general, standard deck boards are approximately 1" thick, 6" wide, and 12', 16' or 20' long.
Looking for more options? Go with TimberTech AZEK deck boards.
TimberTech AZEK Decking Features
✓ Multi-Width Decking in narrow (3.5"), standard (5.5") and wide (7.25") widths in the Vintage Collection® and standard and wide-widths in our Harvest Collection®.
✓ TimberTech AZEK MAX boards which are 1.5" thick (compared to the standard 1" thick) in Coastline® and Slate Gray.
Deck Board Profile & Fastener Options
Grooved, square-shouldered, scalloped, or full-profile? The board profile you choose will affect your installation and which fastener options are available to you. Read the guide for a comprehensive walkthrough of your options and how to choose.
Deck Board Spacing Best Practices
Once you have your boards and fasteners chosen, you'll need to consider deck board spacing. Deck board spacing is essential for calculating how much decking you'll need — as well as ensuring your boards are installed correctly.
Make Your Choice: Order Samples of TimberTech Decking Boards
Nothing beats experiencing the TimberTech difference for yourself.
Order free samples of our decking boards to get a sense of the quality and see the nature-inspired aesthetics up close. Place samples in your intended build area to get a true feel for how the boards look in different lighting and how they pair with your exterior.